The Twisted Lines of God
All I want to do is look at, write on, and talk about my new wood burning stove which is a delight to the eye, deliciously warm for the chilly body and the new centre piece in my kitchen. I could spend hours gazing at it, a pert new kettle warming up nicely on top, dreaming of cosy evenings by the fire. I know it's August but then it's August in Ireland i.e. chilly, damp and overcast. So, that leaves a book blog to be done. Mmmm…
I have the most delightful Spanish student staying with me (she can't believe the cold and she loves my new wood burning stove as much as I do) so with the promise of something sweet after dinner, I have persuaded her to write the blog. Well, someone's gotta do it!
Los Renglones Torcidos De Dios
by Torcuato Luca De Tena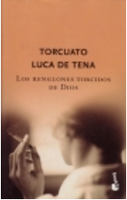 I like this book because it is really interesting and I couldn't stop of read when I started. In the story you can't know if the most important person of the book, Alice, is really crazy or she says the truth and she is a detective. She is absolutely intelligent, so the doctors ,who are trying to help her , can't know if she really crazy. Alice think that she is in the asylum (manicomio) because she has to investige a crime, but when she discovered who was the criminal and she wanted to come back home, nobody believed her and she thought that somebody, maybe her husband, wants to leave her in the asylum (manicomio) to stole her all her money.
Maria Luisa Murube Fernandez – Cotta
Labels: Maria Luisa, Torcuato Luca De Tena, weather