The Lenten Read - It Ends
It is Easter Sunday, signifying the end of Lent, and while many are gorging on the vice they had denied themselves, I have spent much of this morning sitting in the sunshine with a book.
My reading forty pages a day is essentially a commitment to Time. One of the most regular complaints I hear from customers in the bookshop is that they don't have enough time to read. First of all, quantify "enough". Second, this is exactly why I do my Lenten Read, to give myself permission, in pop-psychology parlance, to ignore the many tasks screaming for attention and devote a guilt-free hour to a book.
The gamble in making a commitment to
[fill in your Lenten pledge here]
is not knowing what will be thrown at you by Life during those forty days. Life made things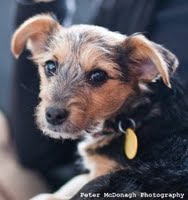 interesting for me by producing a stray puppy, and puppies take up Time and finding that hour to read became a real challenge until she went to her new home. I did choose to spend time with friends visiting from afar over completing the full forty pages every day, and had been careful to pick a book that was easy reading for the duration of their stay, but I caught up easily over a couple of days. Overall, I managed to do what I had set out to, finding the flexibility to fit in a dog and people, and without the rest of my life descending into complete chaos. Already I'm looking forward to doing it all again next year.
Labels: priorities, The Lenten Read, time to read