Caesarion,




Tommy Wieringa



Ludwig Unter's life held such promise. His parents were artists and, from an early age, his own musical genius had marked him out for a stellar career in the world's concert halls. In his mother's imagination, Ludwig is already on the way to surpassing her most ambitious dreams for him. But in reality, and for now, he's playing in local cocktail bars and the two of them are living alone in a storm-lashed clifftop cottage in East Anglia.

As the forceful winter seas bash away at the coastline, and Ludwig plunks away at the piano, he begins to tell a woman his story: a story of beauty and decay, of a child's faith and parental betrayal, and of the importance, in the end, of self-sacrifice.



Pure,

Andrew Miller


A year of bones, of grave-dirt, relentless work. Of mummified corpses and chanting priests.

A year of rape, suicide, sudden death. Of friendship too. Of desire. Of love...

A year unlike any other he has lived.

Deep in the heart of Paris, its oldest cemetery is, by 1785, overflowing, tainting the very breath of those who live nearby. Into their midst comes Jean-Baptiste Baratte, a young, provincial engineer charged by the king with demolishing it.

At first Baratte sees this as a chance to clear the burden of history, a fitting task for a modern man of reason. But before long, he begins to suspect that the destruction of the cemetery might be a prelude to his own.



The Tragedy Of Arthur,


Arthur Phillips



Duckworth are proud to present this first modern edition of

The Tragedy of Arthur

by William Shakespeare.

The long-lost play surfaces in Phillips's new novel, a sublime faux memoir framed as the introduction to the play's first printing. Arthur and his twin sister, Dana, maintained an unusual relationship with their gregarious father, a forger whose passion for the bard and for creating magic in the everyday (he takes his children to make crop circles one night) leave lasting impressions on them both: Dana becomes a stage actress and amateur Shakespeare expert; Arthur a writer who 'never much liked Shakespeare.'

Their father spends most of their lives in prison, but when he's about to be released as a frail old man, he enlists Arthur in securing the publication of

The Tragedy of Arthur

from an original quarto he claims to have purloined from a an estate decades earlier, though, as the authentication process wears on – successfully -- Arthur becomes convinced that the play is his father's greatest scam...

Along the way, Arthur revisits his career and excruciatingly unpacks his relationship with Dana and his own romantic failings. Then there is the play itself, which reads very like something written by the man from Stratford-upon-Avon – a feat of real-life forgery brilliantly carried off.

Hilarious and haunting, this virtuosic novel – which includes Shakespeare's(?) lost King Arthur play in its five-act entirety – captures the very essence of romantic and familial love and betrayal.



1Q84,
Haruki Murakami

The year is 1984. Aomame sits in a taxi on the expressway in Tokyo.

Her work is not the kind which can be discussed in public but she is in a hurry to carry out an assignment and, with the traffic at a stand-still, the driver proposes a solution. She agrees, but as a result of her actions starts to feel increasingly detached from the real world. She has been on a top-secret mission, and her next job will lead her to encounter the apparently superhuman founder of a religious cult.

Meanwhile, Tengo is leading a nondescript life but wishes to become a writer. He inadvertently becomes involved in a strange affair surrounding a literary prize to which a mysterious seventeen-year-old girl has submitted her remarkable first novel. It seems to be based on her own experiences and moves readers in unusual ways. Can her story really be true?

Aomame and Tengo's stories influence one another, at times by accident and at times intentionally, as the two come closer and closer to intertwining. As 1Q84 accelerates towards its conclusion, both are pursued by persons and forces they do not know and cannot understand. As they begin to decipher more about the strange world into which they have slipped, so they sense their destinies converging. What they cannot know is whether they will find one another before they are themselves found.

1Q84 is a magnificent and fully-imagined work of fiction - a thriller, a love-story and a mind-bending ode to George Orwell's Nineteen Eighty-Four. It is a world from which the reader emerges stunned and altered.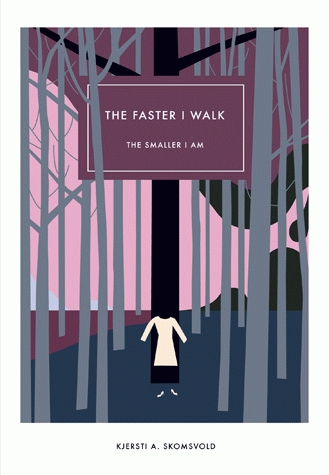 The Faster I Walk, The Smaller I Am,
Kjersti A. Skomsvold
Mathea Martinsen has never been good at dealing with other people. After a lifetime, her only real accomplishment is her longevity: everyone she reads about in the obituaries has died younger than she is now.

Afraid that her life will be over before anyone knows that she lived, Mathea digs out her old wedding dress, bakes some sweet cakes, and heads out into the world—to make her mark. She buries a time capsule out in the yard. (It gets dug up to make room for a flagpole.) She wears her late husband's watch and hopes people will ask her for the time. (They never do.) Is it really possible for a woman to disappear so completely that the world won't notice her passing?

The Faster I Walk, the Smaller I Am is a macabre twist on the notion that life "must be lived to the fullest."

The Buddha In The Attic,


Julie Otsuka

Following her highly acclaimed first novel

When the Emperor was Divine

, Julie Otsuka's second novel The Buddha in the Attic – winner of the Pen Faulkner Award for Fiction 2012 – tells a powerful story of a group of Japanese immigrants on their journey to America for marriage.

Between the wars a group of young, non-English-speaking Japanese women travelled by boat to America. They were picture brides, clutching photos of husbands-to-be whom they had yet to meet. Julie Otsuka tells their extraordinary, heartbreaking story in this spellbinding and poetic account of strangers lost and alone in a new and deeply strange land.

In language that has the force and the fury of poetry, Julie Otsuka has written a singularly spellbinding novel about the American dream.



From The Mouth Of The Whale,




Sjón, translated by Victoria Cribb



Men of science marvel over a unicorn's horn, poor folk worship the Virgin in secret and both books and men are burnt.

Jonas Palmason, a poet and self-taught healer, has been condemned to exile for heretical conduct, having fallen foul of the local magistrate. Banished to a barren island, Jonas recalls his exorcism of a walking corpse on the remote Snjafjoll coast, the frenzied massacre of innocent Basque whalers at the hands of local villagers, and the deaths of three of his children.

From the Mouth of the Whale is a magical evocation of an enlightened mind and a vanished age.



The Map & The Territory,




Michel Houellebecq



Artist Jed Martin emerges from a ten-year hiatus with good news. It has nothing to do with his broken boiler, the approach of another lamentably awkward Christmas dinner with his father or the memory of his doomed love affair with the beautiful Olga. It is that, for his new exhibition, he has secured the involvement of none other than celebrated novelist Michel Houellebecq.

The exhibition brings Jed new levels of global fame. But, his boiler is still broken, his ailing father flirts with oblivion and, worst of all, he is contacted by an inspector requiring his help in solving an unspeakable, atrocious and gruesome crime, involving none other than celebrated novelist Michel Houellebecq...



Swamplandia!,


Karen Russell



In the Florida Everglades, gator-park Swamplandia! is in trouble. Its star performer, the great beauty and champion alligator-wrestler Hilola Bigtree, has succumbed to cancer, and Ava, her resourceful but terrified 13-year-old daughter, is left in charge with her two siblings. But Ava's sister has embarked on a romantic relationship with a ghost, her brother has defected to a rival theme park, and her father is AWOL. And then a mysterious figure called Bird Man guides Ava into a perilous part of the swamp called the Underworld, promising he can save both her sister and the park...

Swamplandia! was longlisted for the 2011 Orange Prize and shortlisted for the 2012 Pulitzer Prize.



**Winner**
City Of Bohane,

Kevin Barry



The once-great city of Bohane on the west coast of Ireland is on its knees, infested by vice and split along tribal lines. There are still some posh parts of town, but it is in the slums and backstreets of Smoketown, the tower blocks of the Northside Rises and the eerie bogs of Big Nothin' that the city really lives.

For years, Bohane has been in the cool grip of Logan Hartnett, the dapper godfather of the Hartnett Fancy gang. But there's trouble in the air. But now they say his old nemesis is back in town; his trusted henchmen are getting ambitious; and there's trouble in the air...